VisitPortugal Conference 2023
01 Mar'23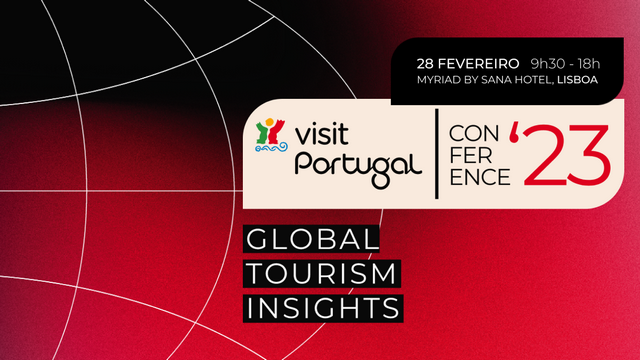 The 1st VisitPortugal Conference 2023 was held in Lisbon, on February 28th, under the theme "Global Tourism Insights". 
The event took place at Myriad By Sana Hotel, and was an initiative of the strategic consultant LemonZest, with the aim of discussing ways to boost the economy, internationalize tourism and enhance The recognition of Portugal in the world. 
The opening ceremony was attended by Luís Araújo, President of Tourism of Portugal, and António Costa Silva, Minister of Economy and Sea. Luís Araujo highlighted the prestige of the Portugal brand, and pointed that its development strategy must be based on four pillars: growing in internationalization, growing in value, growing in the interior and geographical diversity and growing in the double transition
Minister António Costa Silva stressed the importance of giving scale to businesses and companies, in order to operate in international markets - and therefore announced that Portugal Ventures will invest about 10 million euros in tourism projects. 
During the morning, the conference focused on the theme "Inspiring the Future", and included: keynote speakers Monika Bielskyte (Protopia Futures) and Chris Twining (Global Innovation & Media Director of Dentsu); a Talk with the presence of Billy Kolber (Co-founder of Hospitable Me) and Diogo Silva (Director of Variations – Association of Commerce and Tourism LGBTI of Portugal); a Round Table with interventions by Danilo Cerqueira (CEO of Tempovip DMC) and Miguel Assis (VOQIN's CCP), moderated by Lídia Monteiro (Senior Director of Sales & Marketing, Tourism of Portugal). 
During the afternoon, under the theme "Doing Business", the directors of the Tourism teams in France (Jean-Pierre Pinheiro), United kingdom (Cláudia Miguel), Spain (Maria de Lurdes Vale), Germany (Abílio Guerreiro), USA (Celina Tavares), Canada (Inês Almeida Garrett), China (Tiago Brito), Japan (Inês Queiroz), Nordic Countries (Stig Kaspersen), Brazil/Latin America (Bernardo Cardoso), and their guests, discussed relevant issues related to these markets and business opportunities for Portugal. 
Also in the afternoon there was a Round Table, focused on the theme "New Opportunities for European Financing", moderated by Luís Campos (EU Tourism Affairs for Tourism of Portugal), and with the participation of Natalia Dias (Horizonte Europa), Sara Machado (Creative Europe Portugal) and Vanda Pereira (LIFE Program),.
Nuno Fazenda, Secretary of State for Tourism, was responsible for the closing of the Conference, underlining the growing importance of three dimensions that affect the tourism sector: climate change, digital transformation and changes in consumer behaviour.