G3 Partners AIPC, ICCA and UFI release "Good Practice Guide: Addressing COVID-19 Requirements for Re-opening Business Events - Version 2"
09 Oct'20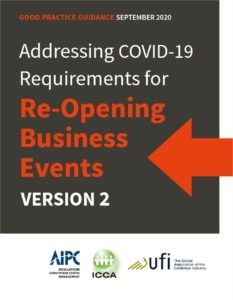 It is already available the good practice Guide: "Addressing COVID-19 Requirements for Re-Opening Business Events – Version 2".
This guide, produced jointly by AIPC (International Association of Convention Centres), ICCA (International Convention and Congress Association) and UFI (Global Association of the Exhibition Industry), builds on the first report, published in May, and includes 12 mini case-studies and learnings from events that took place successfully, during the summer months.
The main purpose is to support memberships to create conditions and safeguards that will enable the smooth reopening of their activities, while observing government and health authorities' regulations.
The guide also complements another earlier publications, produced and distributed from March to May: "Good Practice Guidance to COVID-19 for Convention and Exhibition Centres" and "Good Practice Guidance for the Use of Centres as Temporary Emergency Facilities".
As with these previous guides, this latest publication has been developed through the direct, practical experiences
and expertise of members that are dealing with the impacts on a day-to-day basis.
Following distribution, the partner associations will be scheduling an online event to facilitate the
implementation of the guidance provided in this publication and to assist members in interpreting its
content into local actions.
To download the guide, click here